We pulled together over 75 inspiring stories from alumni around the globe to share with you. These students come from all different backgrounds, but have one thing in common — they've achieved incredible success in their art business since taking Leverage Your Art. This first video is a 'highlight reel' where you'll hear from multiple different students about their experience in Leverage, but keep scrolling for a deep dive into each students' personal story of growth!
"[Leverage Your Art] was PIVITOL in helping me create a unique, passion driven career out of my art. Since taking her course, I got licensed with my very top choice fabric company and am now working towards my FOURTH fabric collection! I credit a large chunk of my success and business fulfillment to Stacie. She has truly helped recharge my entire creative life."
⸺

ASHLEY PAGGI
Ash Cascade Design
LYA ALUMNI 2020
"Almost exactly one year after taking Leverage Your Art, I received my first licensing contract from a fabric company! I have also collaborated with other businesses and gained many wholesale accounts. I now have 50 retail shops selling my products. These are all things I never really thought were possible and felt out of reach, before taking Leverage Your Art."
⸺

DEBBY LIGHTMAN CASHER
Mindful Nice
LYA ALUMNI 2021

"LYA provides an extremely detailed and robust map or manual to everything from the technicalities of starting your own business, to design and manufacturing. Not only does Stacie provide her expertise and an extensive library of resources, but also a community full of artists in similar places as you. The sections on licensing your art were my favorite. LYA has given me all the tools I need to license my work."
⸺

ABBIE STEIN
Polk Salad Abbie
LYA ALUMNI 2021
"I am discovering all the places in my art that need improvement for a well rounded portfolio. This helps me gain confidence over fear of failure. 
I am happily buzzing around like a bee gathering nectar."
⸺

Donna Marshall
LYA ALUMNI 2021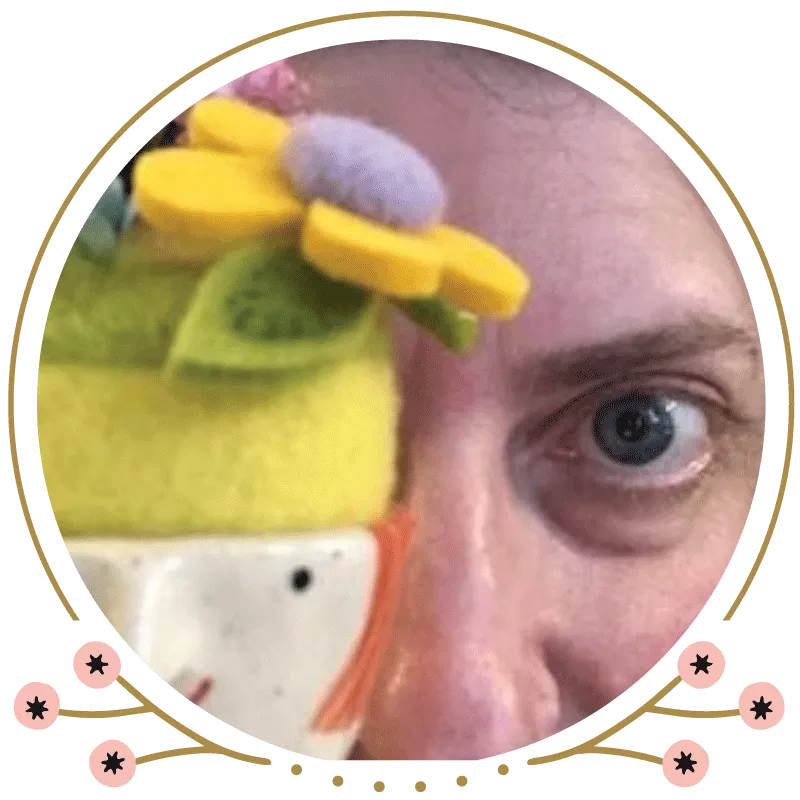 "Leverage Your Art (as well as the Creative Powerhouse Society) has been a complete game changer for my creative career. Stacie has shown me how many possibilities there are to diversify my income, expand my reach, and create a more sustainable design practice. I now have a fabric collection being released this summer, and am represented by an art agent. I am so glad I made the investment!"
⸺

Deborah Fisher
"If you are wondering if you should invest in this course, you should. I told my husband that the amount of time and money I would spend on my own to get all the content Stacie provides would be tenfold, at least."
⸺

Erica Ridout
LYA ALUMNI

CHRISTINE JAMIESON
I just wanted to reach out and say that your course Leverage Your Art has changed my life. ️
I just launched my own website today and I'm already feeling my energy shift. I can't begin to tell you how amazing the course was and how much I got out of it. I still have tons to go back and review but I'm already on a path to something I've been dreaming about for years. Thank you. For your willingness to share and be yourself and to put so much love and hard work into the course. This Canadian girl is forever grateful. ️
ASTA BUBLIENE

I've been been working in a creative field for the last 20 years, but never for myself. I am also a ceramic artist and love drawing on paper and on my pots. I thought of starting to sell my own home decor products and then surface pattern design came into my orbit. I wasn't really sure how to get started. So last summer I made a leap and decided to invest in the Leverage Your Art course by Stacie Bloomfield. It's a very intensive and comprehensive 8-week course. Stacie takes you through a 360º view of creative entrepreneur's business, teaches about multiple revenue streams and all the different ways you can monetize your artwork. Stacie's enthusiasm and sincerity is infectious and she really genuinely wants to help everyone succeed. For me it was a lot of new information and after taking Leverage Your art course I decided to work on art licensing income stream first and have focused on building my surface design portfolio. The best part is that you can go back to the course and revisit it again whenever you are ready to implement other parts of the course into your business. I can definitely recommend this course to anyone looking to become a creative entrepreneur.
MAIE ATABANI

I was one of those at the beginning on the fence to join because it really is a big investment, but halfway through the course i realized that even if the class were to stop here, it would've been worth it. If I knew how much I'd end up learning before I joined , I would've done it right away without hesitation. Regardless of where you are on your journey, you'll end up learning a ton. You will also realize that there really is a formula to succeeding and Stacie breaks it down for you step by step. Its approachable, challenging, and delightful. Do it.
DIANE WATSON

First, let me start with a big "thank you!"  (And a hug). I am an empty nester starting a career over again at 57 after leaving the corporate world (I had enough!). My mom passed away this year of complications from dementia. She was my creative powerhouse. She taught me how to use color, choose fabrics, and make a home look unbelievable on a budget.  We would do silly, crafty things to pass time together. I haven't been able to talk with her about those things for the last 3 years as she slowly declined.  It's been lonely not having a creative compadre.
Meeting you virtually (and your team/ the group has been a light in my life).  I'm very introverted so hardly ever go on Facebook (or live calls), but having access to your authentic videos and the tons of pertinent information you passed along is simply amazing! So very helpful.
Creating pattern designs, art prints, building my portfolio and website has been my focus during this class.  I have been able to keep going even when life feels so overwhelming. I'm getting started on a very small budget and I have not put my work out there yet, but getting braver everyday.
I joined your membership and am looking forward to the continuation of the creative inspiration.
Look forward to seeing you soon in the membership group!
BONNIE LECAT

Leverage Your Art really changed the way I do business and create new artwork. The well-organized, easy to understand, and extremely thorough lessons helped me to see where I needed to make changes in my business so that I could work smarter, not harder to create the business I've been dreaming of. Thank you, Stacie, for creating this wonderful class and taking the time to share your knowledge in such a kind, fun, and approachable way! Since completing Leverage Your Art, I have designed an entire new product line that will be launching very soon. I would never have been able to do it without taking Leverage Your Art, and I find myself revisiting the videos and lessons again and again and I learn something new every time!
ALEXANDRIA CHEN

I first found out about Surface Design in June last year and was searching for a course to start building my knowledge and career in Surface Design. Stacie's course opened my eyes and mind into the numerous ways we can leverage our artwork by elaborating on the channels available to create multiple revenue streams.
The lessons are in video and text formats that you can take at your own pace, and can be accessed on Kajabi app. I loved that she included a workbook that I could follow along easily. Personally I do find that it's a more advanced course and would recommend it for someone who already has artwork that they're ready to act on.
RESULTS WILL VARY
While thousands of students have found lots of success, the results are not guaranteed and are based on student driven factors. 

We want our students to feel like Leverage Your Art is a GREAT fit for them. We offer a 1 week refund window for students who enroll in Leverage Your Art and upon starting the course feel like the course will serve them. Please see our FAQ for more information.